OOF: Finite Element Analysis of Microstructures




Next:
Coordinate Conventions
Up:
The OOF Manual
Previous:
/output/cross_section/nonuniform/function
&nbsp
Contents

The Element Types
The local constitutive behavior of any part of the
OOF
model is incorporated in an element.
Element properties are specified in a function window, such as /modify/replace/hexagonal, illustrated in Figure 4.1. There is a separate function with its own set of parameters for each type of material. These functions each appear in two menus: /initialize/uniform creates a uniform grid of a given material, and /modify/replace replaces all selected elements with new elements of a given material.
Figure 4.1: The function window for /modify/replace/hexagonal. All arguments other than gray are constitutive parameters. gray simply governs how the element will be displayed.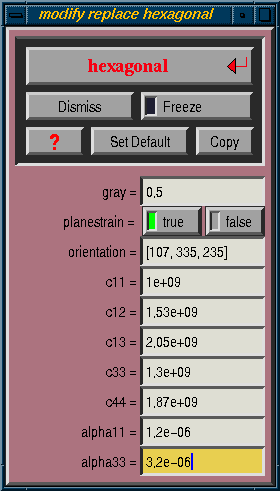 The constitutive parameters derive from linear elasticity and thermoelasticity. Readers familiar with thermoelasticity can skip the background material in section 4.1.
Currently, each element must be treated in either plane strain or plane stress. The distinction between the two is discussed in section 4.2. Plane strain will be used if the variable planestrain in the function window is true.
Element orientations are discussed in Section 4.3.
---
Subsections
---




Next:
Coordinate Conventions
Up:
The OOF Manual
Previous:
/output/cross_section/nonuniform/function
&nbsp
Contents
/* Send mail to the
OOF Team
*//* Go to the
OOF Home Page
*/