Coordinator: Dr. Vinod Tewary
Co-Organizers: Professor Laura Bartolo and Dr. Adam Powell
Green's Functions for Advanced Materials
The Web site and Database of the GF/BEM group aims to foster communication and collaboration among the members. All those involved in research, teaching, or industrial applications of GF/BEM for materials are invited to join the group.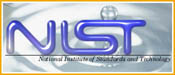 Green's Functions (GF) along with the Boundary Element Method (BEM) provide a powerful tool for studying elastostatic, elastodynamic, electrostatic, and thermoelastic response of materials. New, computationally efficient methods for calculating Green's Functions for anisotropic solids have been developed at NIST and elsewhere.The NIST Center for Theoretical and Computational Materials Science has sponsored this project to develop GF/BEM formulation for advanced materials and to disseminate results for research, teaching, and industrial applications through Internet.
A collection of papers and downloadable codes are available here.