Next:
CONCLUSIONS
Up:
MODEL RESULTS
Previous:
Capillary forces
PHYSICA results for solid fraction and von Mises stress at different times in the simulation are shown in figure 4. In this case, the initial and boundary conditions resulted in freezing from the substrate upward, and for some time all of the solder was between its liquidus and solidus temperatures.
Figure 4: Solid fractions (top) and von Mises stresses (bottom) predicted by PHYSICA at various time steps. Note stress plots are given for a later time than solid fractions, and the mesh is deformed by 100 times the calculated deformation field.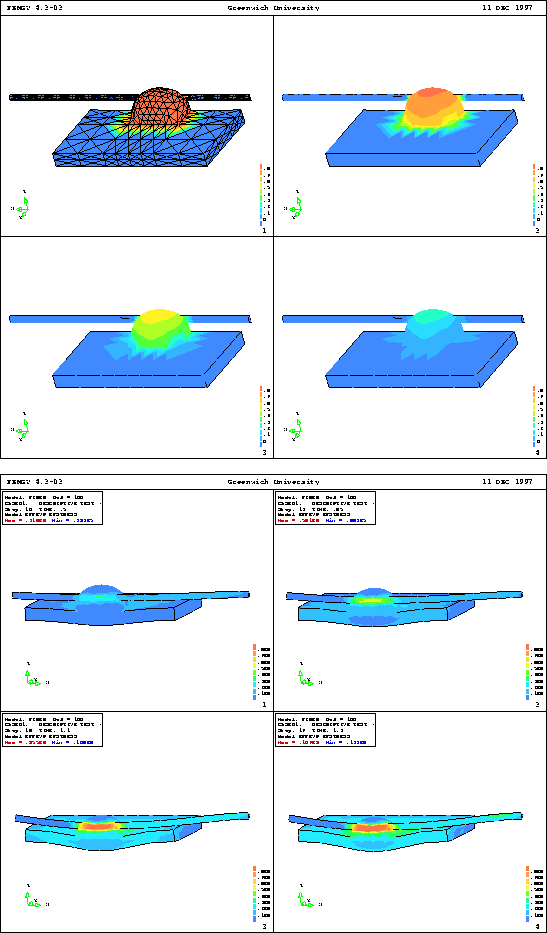 It is interesting to note that for this geometry and set of material properties, shrinkage in the solder droplet resulted in sufficient deformation of the substrate for the fiber end to move away from the substrate. This is because the substrate material was specified to have low thermal expansion coefficient and stiffness relative to the solder, and the substrate was specified to be very thin. The largest stresses were found in the fiber, since maximum strain there is close to that in the solder but the fiber modulus is considerably larger.
---
Next:
CONCLUSIONS
Up:
MODEL RESULTS
Previous:
Capillary forces
Adam Clayton Powell IV
1998-06-08