Design and Implementation¶
The goal of FiPy is to provide a highly customizable, open source code for modeling problems involving coupled sets of PDEs. FiPy allows users to select and customize modules from within the framework. FiPy has been developed to address model problems in materials science such as poly-crystals, dendritic growth and electrochemical deposition. These applications all contain various combinations of PDEs with differing forms in conjunction with other unusual physics (over varying length scales) and unique solution procedures. The philosophy of FiPy is to enable customization while providing a library of efficient modules for common objects and data types.
Implementation¶
The Python classes that make up FiPy are described in detail in fipy Package Documentation, but we give a brief overview here. FiPy is based around three fundamental Python classes: Mesh, Variable, and Term. Using the terminology of Theoretical and Numerical Background:
A Mesh object

represents the domain of interest. FiPy contains many different specific mesh classes to describe different geometries.

A Variable object

represents a quantity or field that can change during the problem evolution. A particular type of Variable, called a CellVariable, represents at the centers of the cells of the Mesh. A CellVariable describes the values of the field , but it is not concerned with their geometry; that role is taken by the Mesh.

An important property of Variable objects is that they can describe dependency relationships, such that:

>>> a = Variable(value = 3)
>>> b = a * 4


does not assign the value 12 to b, but rather it assigns a multiplication operator object to b, which depends on the Variable object a:

>>> b
(Variable(value = 3) * 4)
>>> a.setValue(5)
>>> b
(Variable(value = 5) * 4)


The numerical value of the Variable is not calculated until it is needed (a process known as "lazy evaluation"):

A Term object

represents any of the terms in Equation (2) or any linear combination of such terms. Early in the development of FiPy, a distinction was made between Equation objects, which represented all of Equation (2), and Term objects, which represented the individual terms in that equation. The Equation object has since been eliminated as redundant. Term objects can be single entities such as a DiffusionTerm or a linear combination of other Term objects that build up to form an expression such as Equation (2).
Beyond these three fundamental classes of Mesh, Variable, and Term, FiPy is composed of a number of related classes.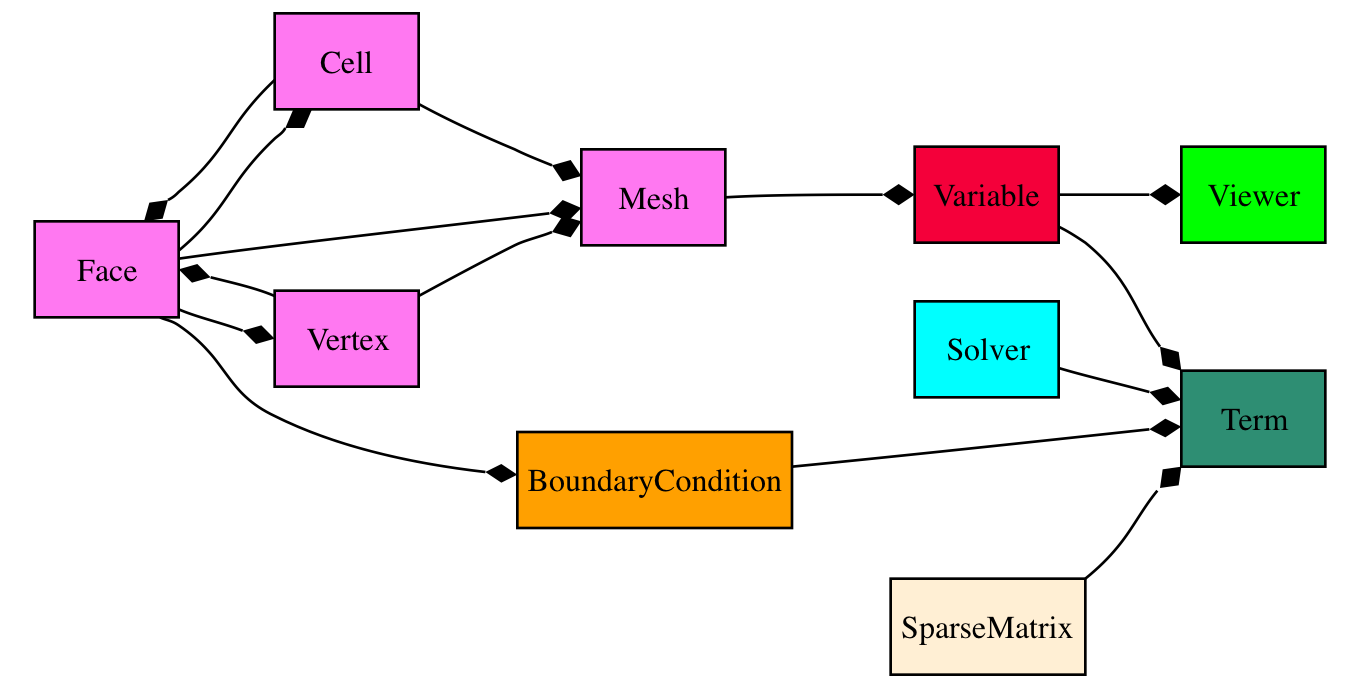 A Mesh object is composed of cells. Each cell is defined by its bounding faces and each face is defined by its bounding vertices. A Term object encapsulates the contributions to the _SparseMatrix that defines the solution of an equation. BoundaryCondition objects are used to describe the conditions on the boundaries of the Mesh, and each Term interprets the BoundaryCondition objects as necessary to modify the _SparseMatrix. An equation constructed from Term objects can apply a unique Solver to invert its _SparseMatrix in the most expedient and stable fashion. At any point during the solution, a Viewer can be invoked to display the values of the solved Variable objects.
At this point, it will be useful to examine some of the example problems in Examples. More classes are introduced in the examples, along with illustrations of their instantiation and use.
Footnotes
Last updated on Jun 15, 2022. Created using
Sphinx
5.0.1.